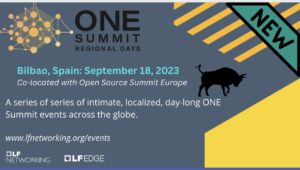 Join the larger open networking & edge ecosystems for ONE Summit Regional Day Spain, September 18, 2023 in Bilbao, Spain! The event will be co-located with Open Source Summit EU. Get the same great content you'd expect during a full ONE Summit event— in-depth presentations and interactive conversations around Access, Edge, 5G and Cloud open-source technology developments– but in a smaller, more localized fashion hosted by local member companies.
Collaborate with technical decision makers, thought leaders, implementers, thinkers, and doers for a day of interactive discussion. Registration for the ONE Summit Regional Day can be added to your Open Source Summit registration for only $20 in-person and $0 for virtual attendees.
Full agenda:
Arpit Joshipura – General Manager of Networking, IoT & Edge at The Linux Foundation
Hanen Garcia – Global Telco Solutions Manager at Red Hat

Enabling 6G Innovation through Open Collaboration: The Role of Linux Foundation Networking

Philip Griffiths – Vice-President at NetFoundry

Applying Edge-Native Zero Trust to LF Edge; EdgeX Foundry, eKuiper, OpenZiti and the Open Retail Reference Architecture

CAMARA Panel

Open network APIs: CAMARA & Open Gateway Initiative

Fatih Degirmenci – Executive Director at the CD Foundation
Andrea Frittoli – Open Source Developer Advocate at IBM and current Chair of Technical Oversight Committee at the CD Foundation

Interoperability: Empowering Multi-Vendor CD in Telecommunications with Standardization

Erik Nordmark – CTO and Co-founder at ZEDEDA

Get Started with LF Edge with the New LF Edge Sandbox

Gergely Csatari – Senior Specialist, Open Source at Nokia and current Co-Chair of the Technical Steering Committee at the Anuket Project
Luis Velarde Tazon – Head of Cloud & Infrastructure, Global IT, CTIO at Telefonica

Anuket x Sylva Fireside Chat

Renê Pinto – Technical Lead at ZEDEDA

Best Practices for Supporting ARM with EVE-OS
Hope to see you there!