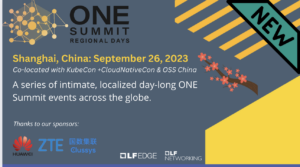 Join us for ONE Summit Regional Day: Shanghai, September 26.
The event will be colocated with KubeCon + CloudNativeCon & Open Source Summit China and attendees can add the event to their main Summit registration for just $20 USD. Collaborate with technical decision makers, thought leaders, implementers, thinkers, and doers for a day of interactive discussion.
Get the same great content you'd expect during a full ONE Summit e — in-depth presentations and interactive conversations around Access, Edge, 5G and Cloud open-source technology developments– but in a smaller, more localized fashion hosted by local member companies.
Event Agenda:
The state of open source Networking and Edge

Ranny Haiby, CTO Networking, Edge/IoT and Access at the Linux Foundation

Deep dive into telco's open source practices on next generation infrastructure  
Intent based incident management in ONAP

Guanyu Zhu, open source technology ecosystem expert at Huawei

Keguang He, Software Architect at China Mobile

EdgeX Foundry introduction and release updates
Reflections on Commercial Implementation of CAMARA Projects by Operators
NanoMQ + eKuiper : Unify Real-time Messaging & Streaming for Internet of Vehicles
Exploration of Generative AI Applications and Open Source Models in the Telecommunications Industry

Changjin Wang, ZTE CCN Product Planning Chief Engineer, LF Networking TSC member

Jie Hu, ZTE Open Source Strategy Director, LF Networking Governing Board member

Open Source and Edge Computing: Unleashing a New Chapter in Digital Transformation
How Linux Foundation open source work with telco standard for commercial telco cloud native deployment

Lingli Deng, Senior Project Manager at China Mobile Research Institute

Hui Deng, Chief 5GC/Cloud standard at Huawei
LF Networking和LF Edge邀请你参加9月26日上海站的 ONE Summit Regional Day,并加入我们的网络和边缘计算生态系统的国际化社区!今年的ONE Summit Regional Day主要聚焦人工智能、网络接入、边缘计算、5G和开源云技术发展等区域性交流活动。这次活动主要为技术决策者和开发人员提供一个密切合作的场所,邀请全球各地的社区成员们相聚,进行面对面交流与协作。
有关此活动的疑问,请联系:pr@lfnetworking.org
请注意,这是赞助商主办的同场活动,必须添加到您的 Kubecon + CloudNativeCon + Open Source Summit China 2023 的注册中。
大会议程:
开源网络/边缘软件当前市场与趋势

Ranny Haiby, CTO Networking, Edge/IoT and Access at the Linux Foundation

中国移动算力网络的开源实践
ONAP: 基于意图的智能故障管理

Guanyu Zhu, open source technology ecosystem expert at Huawei

Keguang He, Software Architect at China Mobile

EdgeX Foundry 简介及项目近况更新
运营商基于CAMARA项目进行商业化落地的思考
NanoMQ + eKuiper : 一站式车联网实时消息和流处理服务
生成式AI在电信行业的场景探索以及开源模式思考

Changjin Wang, ZTE CCN Product Planning Chief Engineer, LF Networking TSC member

Jie Hu, ZTE Open Source Strategy Director, LF Networking Governing Board member

开源和边缘计算:开启数字化转型新篇章
如何通过Linux基金会的开源项目与电信标准的结合来推进电信云原生商业部署

Lingli Deng, Senior Project Manager at China Mobile Research Institute

Hui Deng, Chief 5GC/Cloud standard at Huawei