November 15

 – 

November 16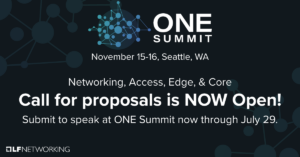 ONE Summit is the ONE industry event focused on best practices, technical challenges, and business opportunities facing network decision makers across Access, Edge, and Cloud.
If you're using networking and automation to transform your business, whether it's deploying a 5G network, building government infrastructure, or innovating at your industry's network edge, this collaborative environment will enable you to interact with your peers and learn about the open source technologies that are redefining the ecosystem. Transform. Innovate. Collaborate. Come join us at ONE Summit.
Speaking submissions are being accepted now through July 29. Tracks include:
Industry 4.0
Security
The New Networking Stack
Operational Deployments: Case Studies, Successes, Challenges
Emerging Technologies & Business Models
Other
Registration is now open – Corporate attendees should register by August 19 for the best rates. Register to attend. 
Visit the event website for more details!