November 15

 – 

November 16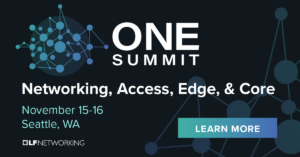 ONE Summit is the premiere industry event focused on best practices, technical challenges, and business opportunities facing network decision makers across Access, Edge, and Cloud.
If you're using networking and automation to transform your business, whether it's deploying a 5G network, building government infrastructure, or innovating at your industry's network edge, this collaborative environment will enable you to interact with your peers and learn about the open source technologies that are redefining the ecosystem. Transform. Innovate. Collaborate. Come join us at ONE Summit.
Our Call for Proposals closed on July 29 and we want to take this opportunity to thank everyone that took the time to submit a proposal. The level of quality of the proposals submitted was very high and really challenged our Program Committee. Stay tuned for an announcement detailing the ONE Summit program including keynotes and breakout sessions.
Registration for ONE Summit continues – Register to attend. 
Visit the event website for more details!