We are gearing up for the first in-person ONE Summit since Fall 2019 when we gathered Antwerp, Belgium as an ecosystem community in a very different world. Not only is this year's event packed full of some of the best sessions we've ever featured, but it comes with an array of co-located events that enable attendees to continue their time onsite! From technical deep dives to project overviews and hands-on collaboration with developers, ONE Summit co-located events provide even more time for innovating at the open source network and edge as we enter the precipice of Industry 4.0.  
Check out the list of this year's co-located events below to see what's on the docket, and extend your ONE Summit experience by adding one or more of these amazing events to a new or existing ONE Summit registration. The collaboration doesn't have to end!
ONE Summit Co-located events:
NOS for the Distributed Edge: A Mini Summit on the DENT Ecosystem
Tuesday, November 15, 2:00 PM – 5:00 PM
The DENT project, an ecosystem of contributors and users around a fully featured network operating system, is hosting a mini-summit during the ONE Summit in Seattle, WA on Nov. 15. Join the community and learn about DENT from the experts, who will provide deep-dives into DENT's architectural approach and its use in Distributed Edge Scenarios. This is an incredible opportunity to interact with ODMs, OEMs, Silicon Vendors, System Integrators and End Users of the DENT Ecosystem, as they share their experiences of using this switchdev-based NOS. Register to this mini-summit to also know about DENT compatible hardware and how DENT is making significant contributions to the upstream Linux Kernel.
Build Your own Commercial CBRS LTE/5G Network based on Magma on Arm and Tier 1 RAN
Wednesday, November 15, 2:30 PM – 5:30 PM
This hands-on workshop will demonstrate how to build a DYI network based on Tier 1 RAN, operating on the CBRS spectrum. This includes a presentation of how to integrate between Magma on Arm running on off-the-shelf hardware (Solid Run ClearFog) and Ericsson Tier 1 RAN. Following the demonstration, users will have the opportunity to use the network, generate live traffic and experience first-hand the services of a DIY network. As a bonus, participants will receive a ClearFog device. The cost to attend this event is $20USD.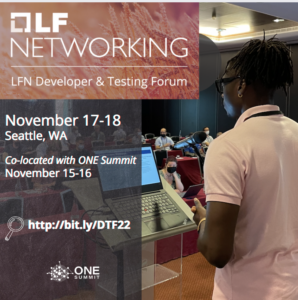 LF Networking Developer & Testing Forum
Thursday & Friday, November 17-18, 
By the Technical Community, for the Technical Community.
The LF Networking Developer & Testing Forum (D&TF) returns in person November 17-18, following ONE Summit, November 15-16 in Seattle. Join LF Networking project and ecosystem communities for deep-dive discussions designed to accelerate project collaboration, influence technical decisions, and build cross-project competence. Confirmed participating projects include: 5G Super Blueprint, Anuket, EMCO, FD.io, L3AF, ODIM, ONAP, OpenDaylight, Tungsten Fabric and XG Vela.
Nephio Developer Summit
Wednesday, November 16, 11:00 am  – 5:30 pm
The Nephio community is hosting its second workshop since project inception onsite at ONE Summit! Help shepherd the delivery of carrier-grade, simple, open, Kubernetes-based cloud native intent automation and common automation templates. The community's goal is to materially simplify deployment  and management of multi-vendor cloud infrastructure and network functions across large scale edge deployments.  The Summit includes workshops, demonstrations, and Birds-of-a-Feather sessions to plan Nephio's first release. 
Cloud & Metaverse (Hosted by Futurewei)
Wednesday, November 16, 2:00 PM – 5:00 PM
Hosted by Futurewei, this event provides a general overview of the current state of Metaverse ecosystem development efforts in open source and open standards,   a discussion of Metaverse's impact on cloud computing, and likely challenges cloud service providers may face when trying to capture opportunities presented by the Metaverse (including Metaverse-as-a-Service, Metaverse Purposed Cloud, or Metaverse enabled by Hybrid Cloud, etc.).
 Hear an introductory overview of the Linux Foundation's Centaurus project, designed to provide large scalability, high performance, low latency, distributed cloud architecture with edge and AI support–with promise to become the open source cloud platform for the Metaverse. 
ONE-SONiC Workshop
Thursday, November 17, 9:00 AM – 5:00 pm
Learn about the SONiC Foundation from project experts who will provide deep-dives into SONiC's modern architectural approach to building and operating open source Network Operating Systems. This will be an incredible opportunity to interact with various technology experts and learn new trends in networking, from  the Cloud to the Edge and beyond. The community is also hosting a Hackathon and Showcase for users to highlight SONiC  implementations with SONiC during ONE Summit, November 15-16, 2022. Hackathon winners will be announced November 17.